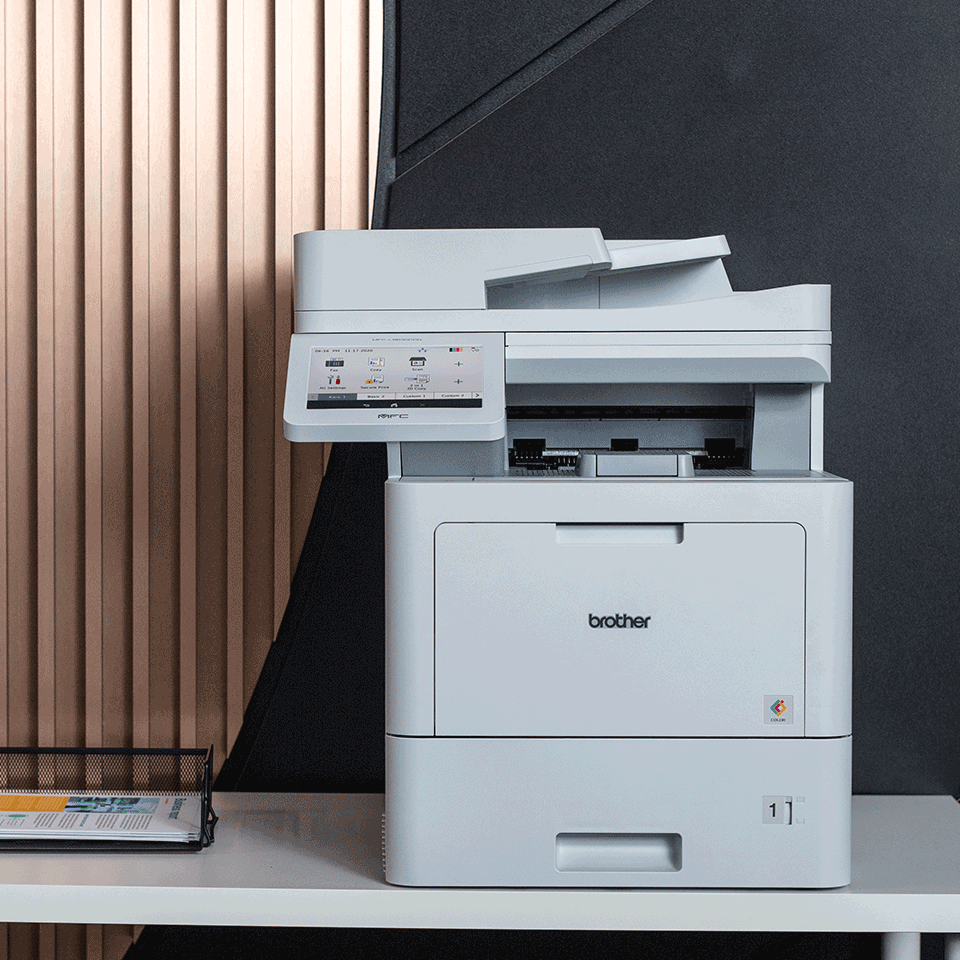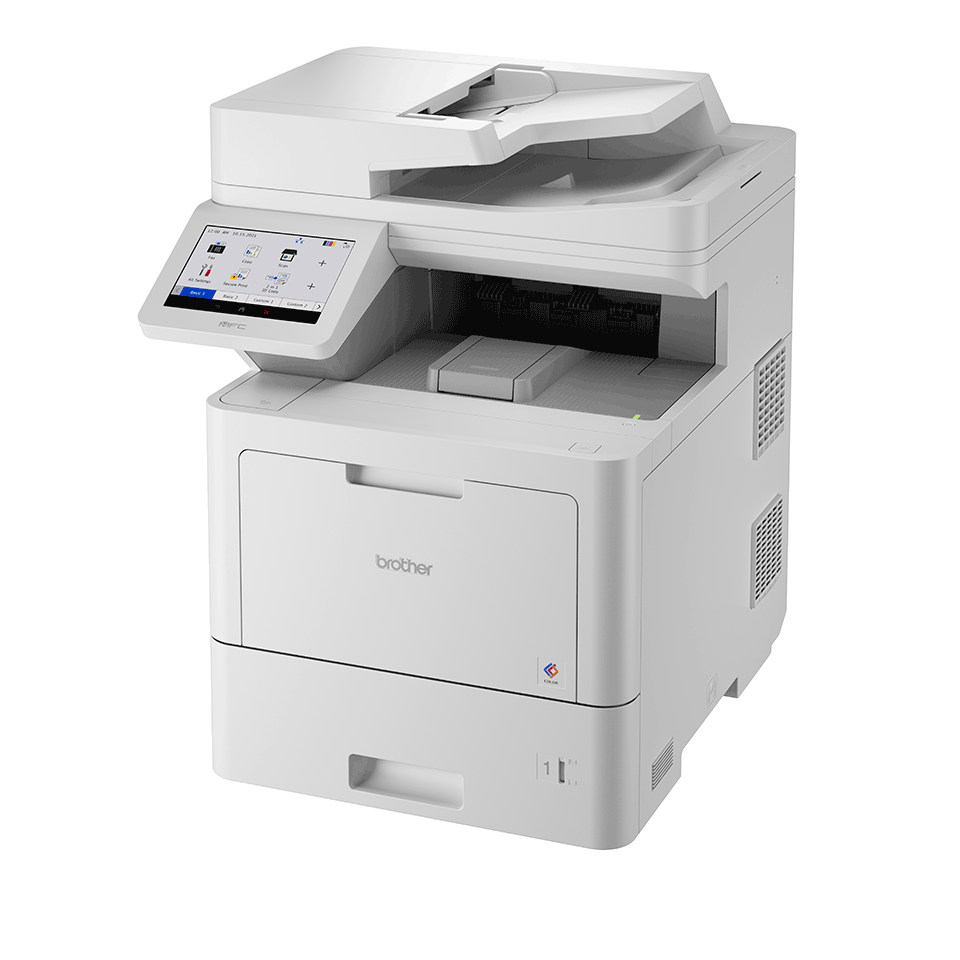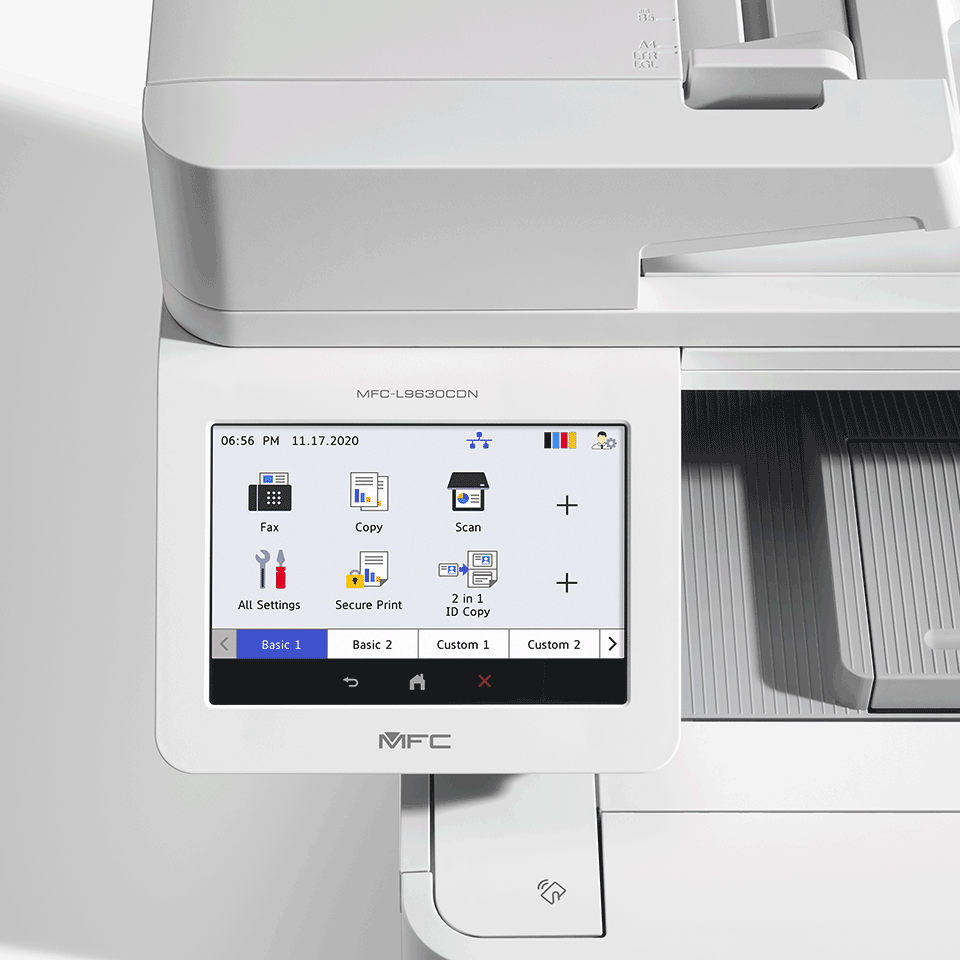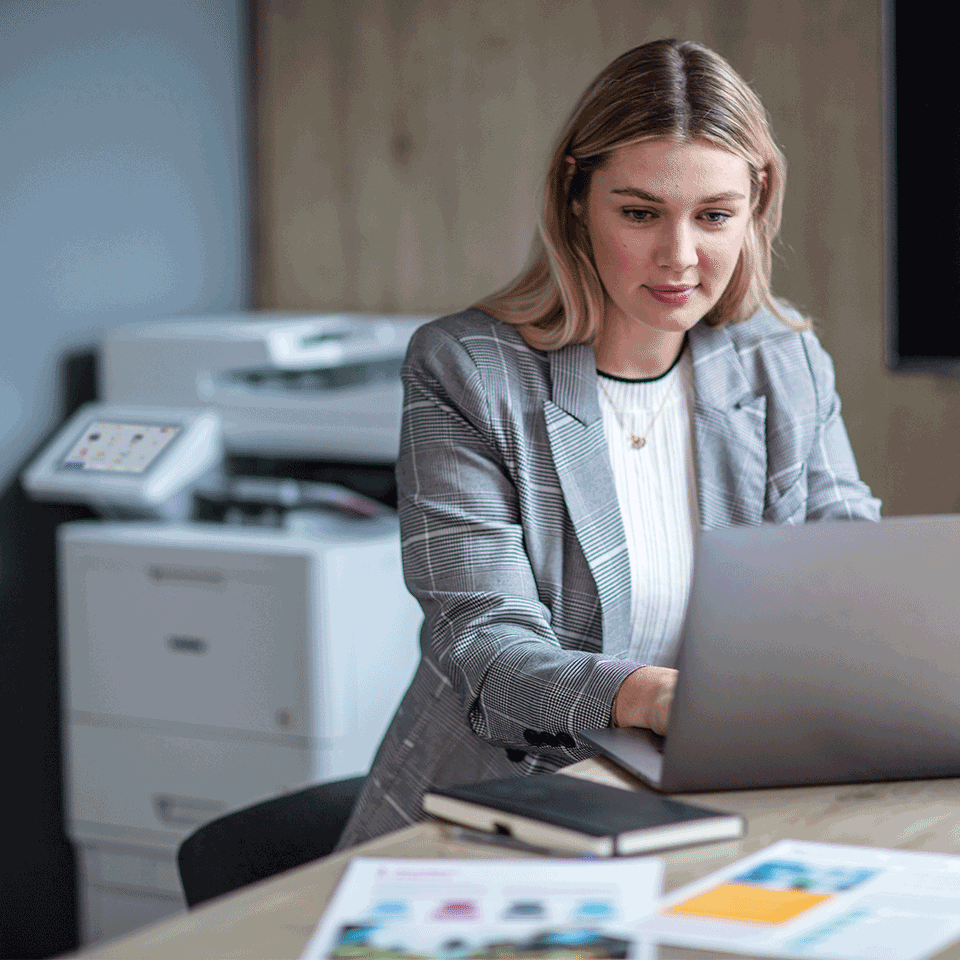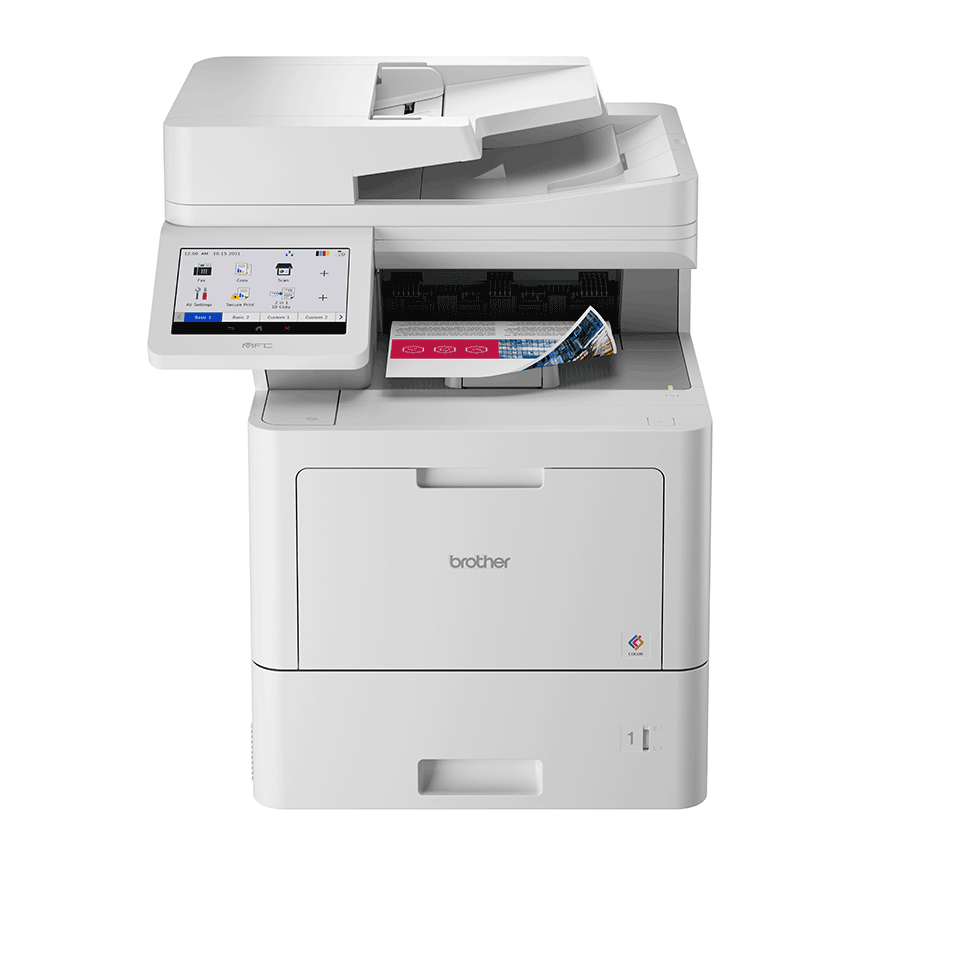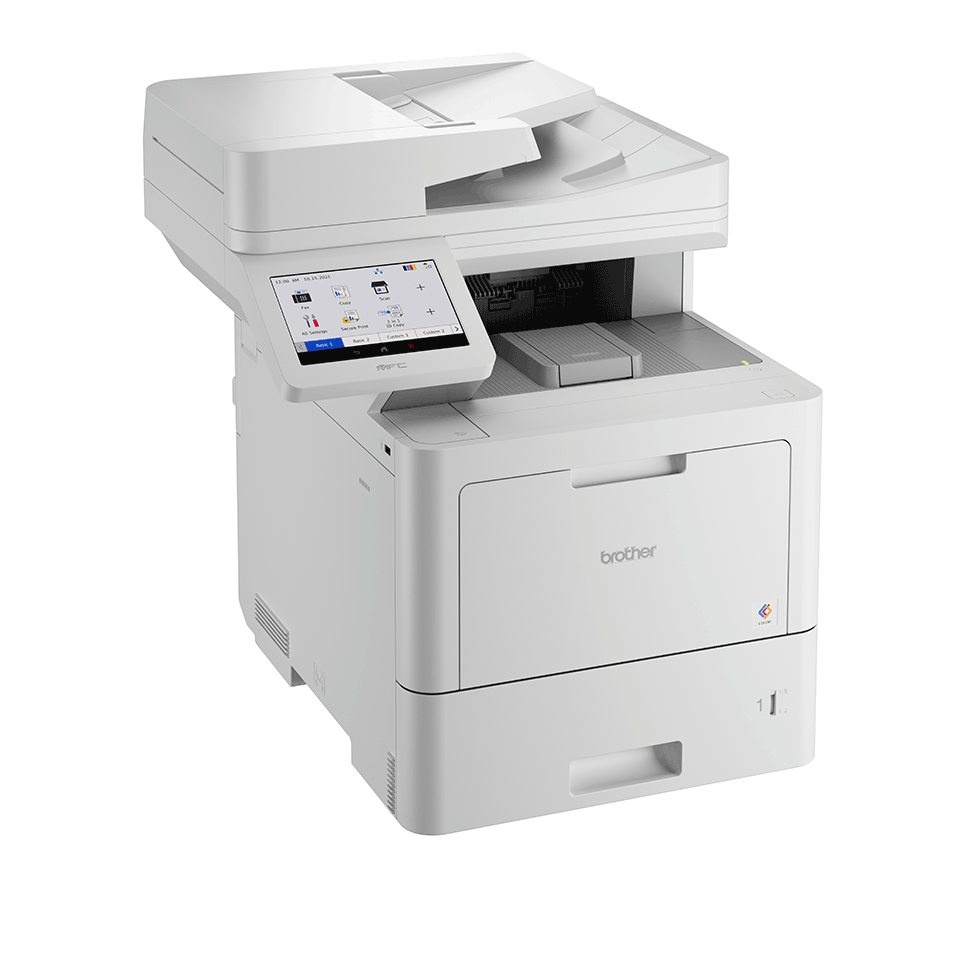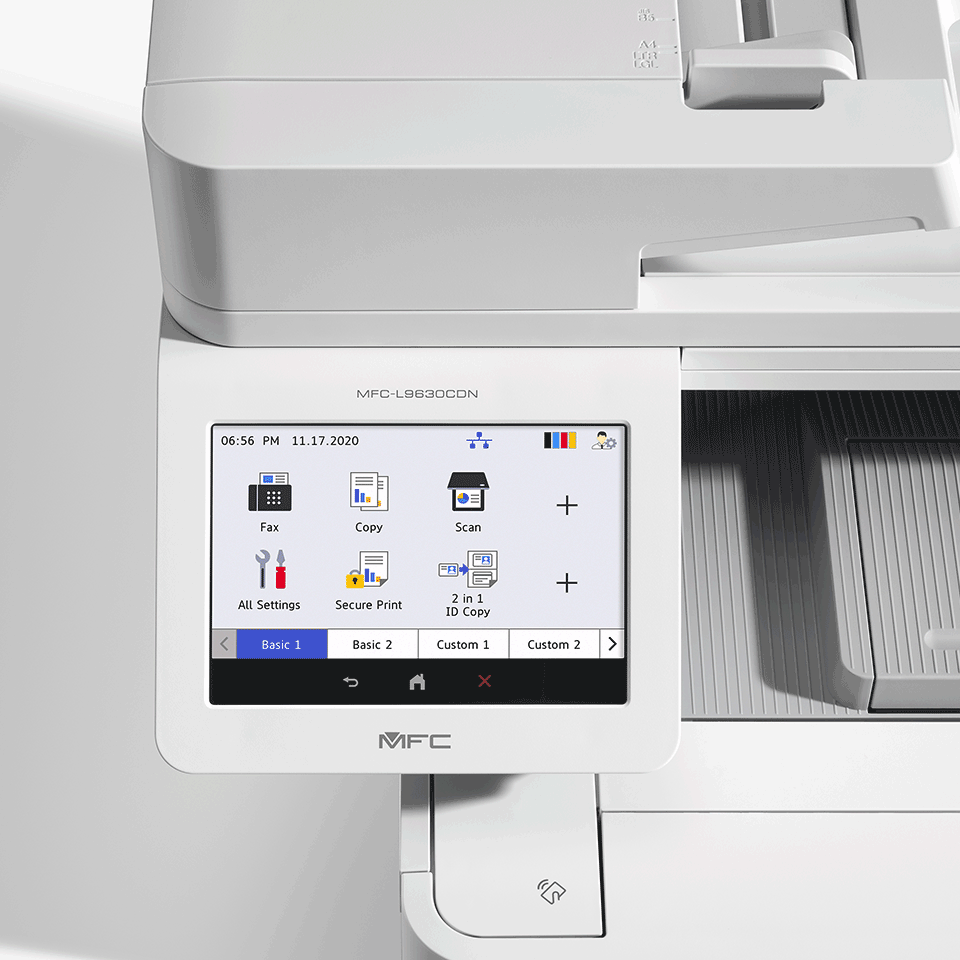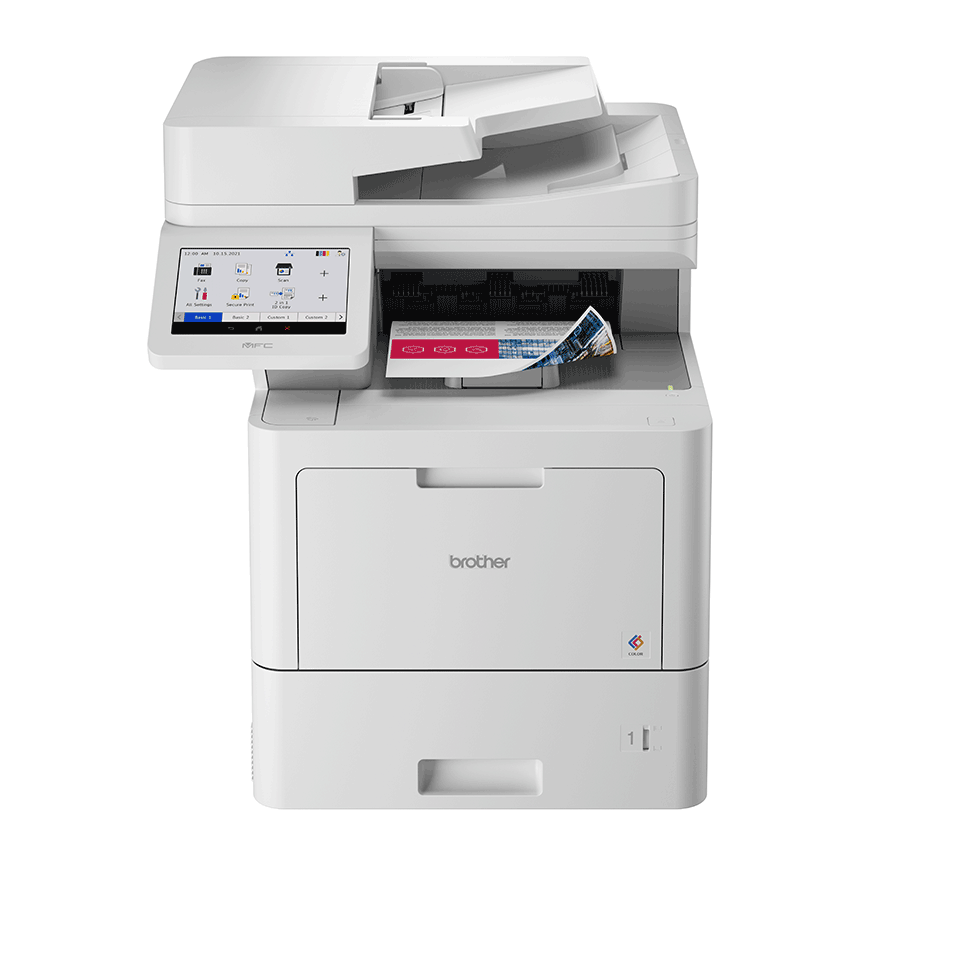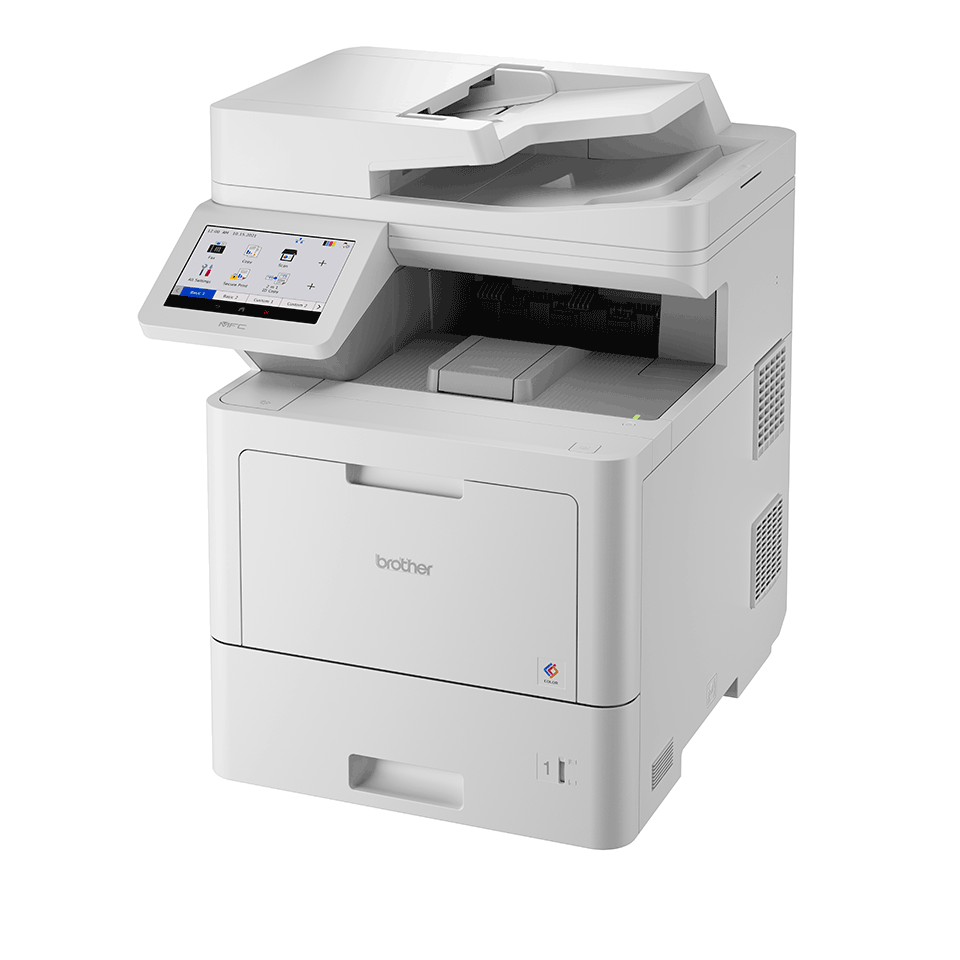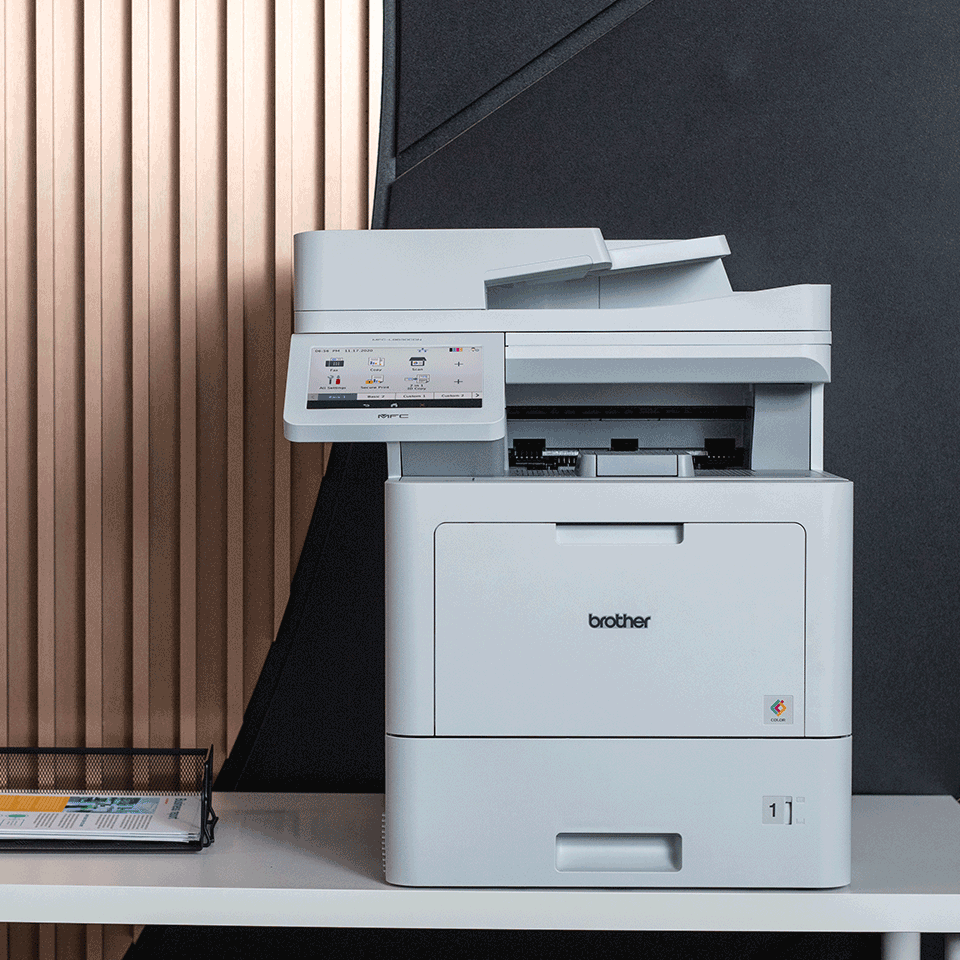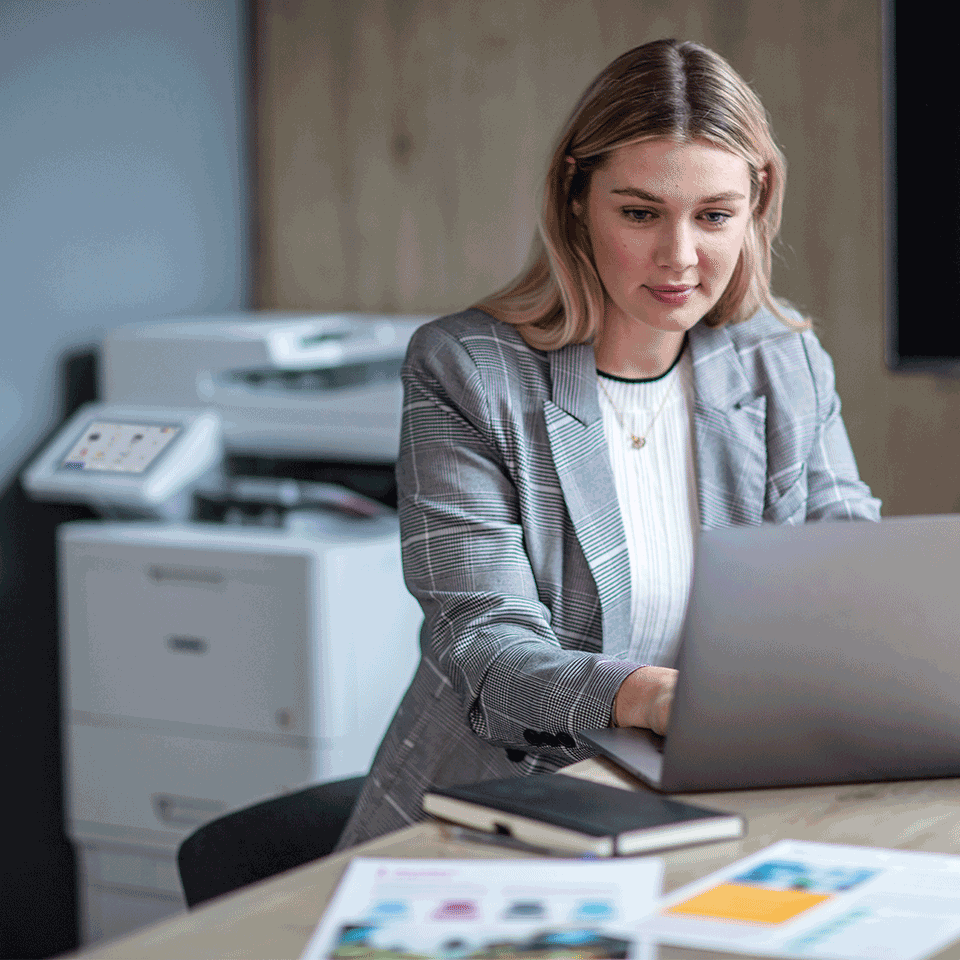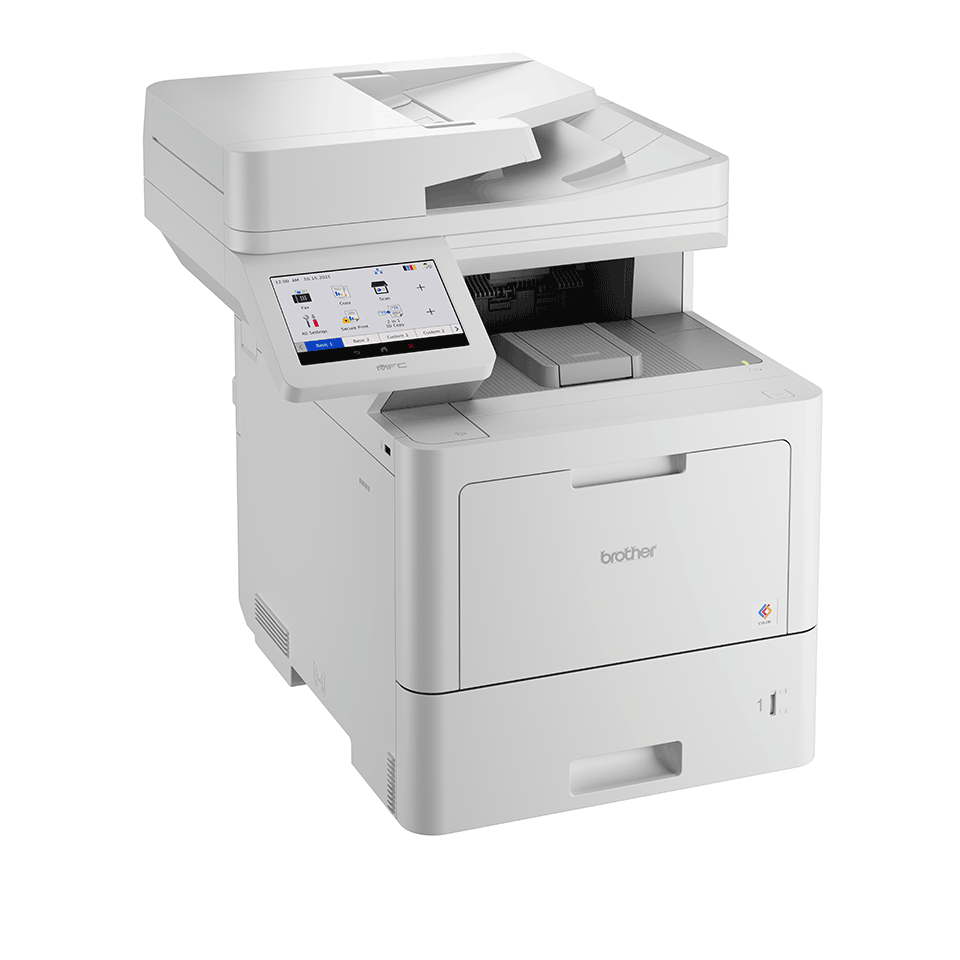 MFC-L9630CDN Professional A4 All-in-One Colour Laser Printer
Professional level all-in-one A4 colour laser printer. Easily customise and automate complex workflows.
Product Details
Print up to 40ppm (pages per minute)
2-sided print, up to 28 sides per minute
2-sided scan up to 100ipm (images per minute) Colour and Mono
520 Sheet paper input tray expandable to 2,600
100 sheets Automatic Document Feeder (ADF)
9,000 pages (BK), 6,500 pages (CMY) inbox toners*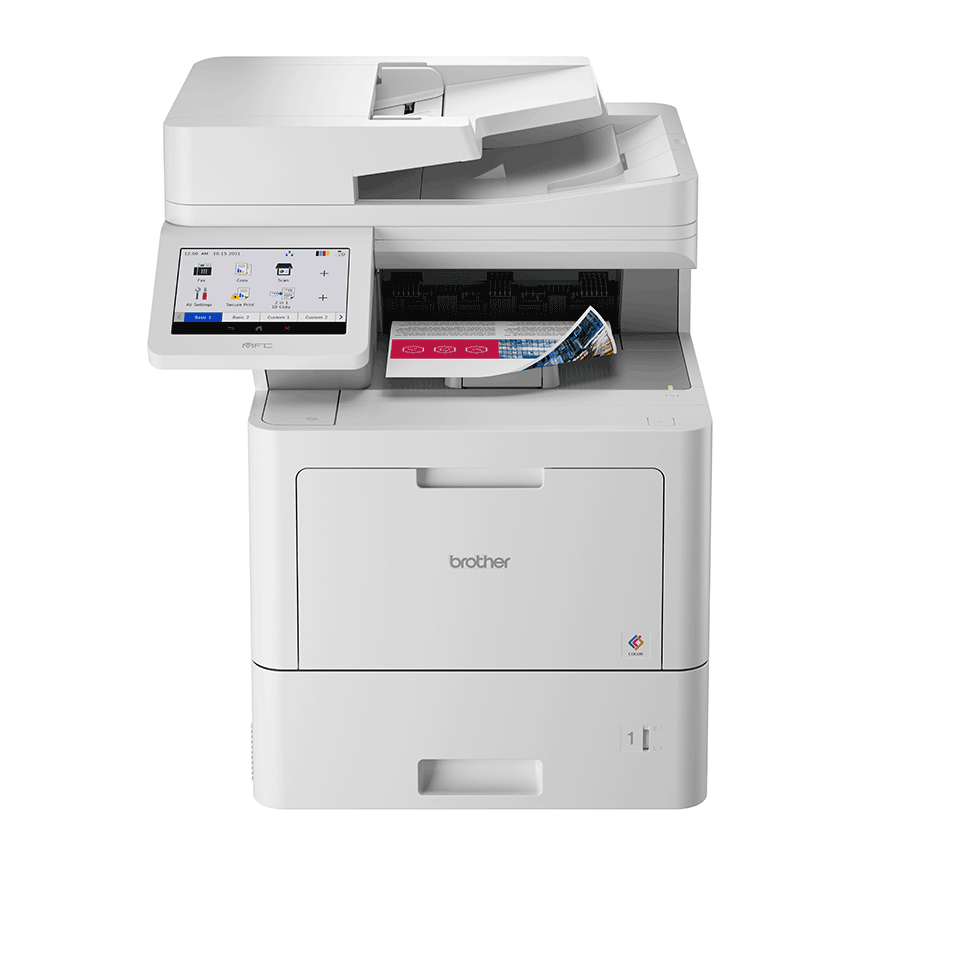 Product Overview
Our most advanced colour printing technology is guaranteed to make the right impression when it counts. Producing vibrant, professional colour documents and accurate digital files every time. With NFC (for mobile print & card authentication) as standard for secure printing and a large customisable touchscreen, it's ideal for busy offices requiring a user-friendly printer with enterprise level security.
Large 17.6cm touch screen
Integrated NFC reader
Cloud Secure Print
Gigabit network as standard with optional 2.4/5GHz Wi-Fi module
Expandable memory capacity (USB flash drive not included)
Fully compatible with 3rd party print management and document management solutions including Kofax, YSoft and more
*Approx declared toner yield value in accordance with ISO/IEC 19798
Specifications
General
| | |
| --- | --- |
| Printer Type | Colour |
| Function | Copy, Fax, Print, Scan |
| Technology | Laser |
| Laser Classification | Class 1 Laser Product |
| Maximum Paper Size | A4 |
| Connectivity | USB, Wired, Wireless (optional) |
| Memory | Internal (2GB) |
| Control Panel | Touchscreen |
| Display | Yes |
Printing
| | |
| --- | --- |
| One Sided Print Speed A4 Colour | 40 |
| Two Sided Print Speed A4 Colour | 28 |
| First print out time | Less than 10,0 seconds from ready mode |
| Mobile Print | Yes |
| Automatic 2 sided print | Yes |
| Printer Functions | N-up Printing, Poster Printing, ID Printing, Booklet Printing, Print Profiles, Print Text In Black, Watermark Printing, Manual 2-Sided Print, Carbon Copy, Direct Print, Job Separation, Match Media, Reverse Print, Secure Print, Skip Tray, Storage Print, Print Complete Notice |
Printer Drivers
| | |
| --- | --- |
| Printer Drivers | ChromeOS (Supports native ChromeOS printing), Linux (CUPS, LPD/LPRng (x86/x64 environment)), macOS (10,14,x), PCL Drivers (Generic PCL XL driver), PostScript (Driver for Windows that enables you to print to any network or locally connected Brother laser printer that supports PostScript), Windows (10), Visit support,brother,com for the full list of supported OS and to download the latest drivers and software, |
Paper Handling (11)
| | |
| --- | --- |
| Paper input | Standard (Tray 1) (520 sheets), Multi Purpose Tray (100 sheets, 15 envelopes), Automatic Document Feeder (100 sheets) |
| Paper output | Face Down (250 sheets), Face Up (1 sheet (straight path)) |
| Media Sizes Standard | Standard (Tray 1) (A4, Letter, A5, A5 (Long Edge), A6, Executive, Folio, Mexico Legal, India Legal, Legal, B5), 2-Sided Print (A4, Letter, Legal, Mexico Legal, Folio), Lower Trays (A4, A5, Executive, Letter, Legal, Folio, Mexico Legal, India Legal), Multi Purpose Tray (DL Envelope, Width: 76,2mm to 215,9mm x Length: 127mm to 355,6mm, C5 Envelope, Com-10, Monarch) |
| Media Types and Weights | Multi Purpose Tray (Plain, Tykt papir, 60 - 230g/m2, Bond, Recycled, Thicker, Tyndt papir, Envelope paper, Glossy), Standard (Tray 1) (60 - 230gsm, Plain, Recycled, Tykt papir, Thicker, Tyndt papir), Automatic Document Feeder (45 - 120g/m2), Auto 2-Sided (Glossy, Plain, Recycled, Tykt papir, Thicker, Tyndt papir) |
| Paper Sensors | Input, Output |
Copy
| | |
| --- | --- |
| Copy Functions | Multi-Copying/Stack/Sort, Enlargement/Reduction Ratio %, N in 1 Copying, 2 in 1 ID Copying, Copy Interrupt |
| FCOT | Colour (13,0 seconds), Mono (12,0 seconds) |
| One Sided Copy Speed A4 Colour | 40 |
Scanning
| | |
| --- | --- |
| Resolution | Interpolated (Up to 19200 x 19200dpi), Colour (600 x 600dpi, 600 x 600dpi), Mono (600 x 600dpi, 600 x 600dpi), Optical |
| Inkjet Scan Grey Scale | 256 levels 8 bit |
| One Sided Scan Speed A4 Colour (3) | 100 |
| One Sided Scan Speed A4 Mono (3) | 100 |
| Two Sided Scan Speed A4 Colour (3) | 100 |
| Two Sided Scan Speed A4 Mono (3) | 100 |
Scanner functions
| | |
| --- | --- |
| Standard Functions | Scan to (USB, Email Server, Network Folder, SharePoint (On Premise), SFTP, FTP, File, Image, OCR, Email) |
| Scan Profiles | 25 Preset network |
| Scan Features | Skip Blank Page, Auto Deskew, Background Processing, Character Correction, Colour Drop, Edge Emphasis, Edge Fill, Reduce Noise, Rotate Image |
| Direct Scan | Yes |
| Document Separation | Yes |
Drivers
| | |
| --- | --- |
| Scan Drivers | Windows (Windows 10), Linux ( SANE), Macintosh ( AirPrint Scanning, 10,14,x), Visit support,brother,com for the full list of supported OS and to download the latest drivers and software, |
Fax
| | |
| --- | --- |
| Fax | Automatic 2-Sided Faxing, Auto Reduction, Automatic Redial, Broadcasting, Chain Dialling, Cover Page, Distinctive Ring Detection (UK, DK only), Error Correction Mode (ECM), Fax Forwarding, Fax to Server, Greyscale, PC-Fax Send and Receive, Fax Stamp, Telephone Index, Batch Transmission, Remote Retrieval, Internet Fax (I-Fax), External Telephone Answering Device port (TAD), Memory Transmission , Out of Paper Reception, Station ID, Telephone Line port |
Fleet Management Tools
| | |
| --- | --- |
| Fleet Management Tools | LAN/WAN Management Software (BRAdmin Professional), Unattended Installer, MSI Installer, Embedded Web Server, Driver Deployment Wizard, Mass Deployment Tool, Status Monitor |
Operating Systems And Software
| | |
| --- | --- |
| Software supplied - Windows | Windows Software (Brother iPrint&Scan, Kofax PaperPort), Macintosh Software (Brother iPrint&Scan Desktop), Utilities, Easy Setup |
Supplies And Accessories
| | |
| --- | --- |
| Toner | Inbox Toner (BK Toner, CMY Toner), BK Toner (9,000 pages), CMY Toner (6,500 pages), BK (TN821XXL BK - 15000 pages, TN821XL BK - 1.2000 pages), C, M, Y (TN821XL CMY - 9000 pages) |
| Drum Unit | 100,000 pages (3 page / job) |
| Belt | 150,000 pages (2 page / job) |
| Waste Toner Box | 100,000 pages |
| Optional accessories | Lower Tray - 250 Sheets (LT-330CL), Tower Tray (4 x 520 sheet tower tray (TT-4000), Tower Tray Connector (TC-4100)), Lower Tray - 500 Sheets (LT-340CL), Maximum combinations (Maximum combinations: 3 x LT-330CL or 2 x LT-340CL, or 1 x LT-330CL + 1 x LT-340CL, or TT-4000 with TC-4100), Paper trays (Maximum combinations), Cabinet, Card holder, Filter Holder, Wi-Fi Module |
Carton Contents
| | |
| --- | --- |
| Carton Contents | Power supply cord, Quick setup guide, Product safety guide, Warranty, Device, Supplies, Drum, Waste Toner Box, Belt |
Dimensions And Weights
| | |
| --- | --- |
| Weight With Carton | 42.7 |
| Dimentions With Carton | 580mm (W) x 663.7mm (D) x 734mm (H) |
| Weight Without Carton | 36.5 |
| Dimentions Without Carton | 503mm (W) x 541mm (D) x 586mm (H) |
Operating Environment
| | |
| --- | --- |
| Power Requirement | AC (220-240V AC 50/60Hz) |
| Power Consumption | Power Off (0.04W), Printing (770.0W), Ready (85.0W), Copying in quiet mode (420.0W), Copying (730.0W), Deep Sleep (1.1W), Sleep (16.8W) |
| Sound Power | Printing (<6,9B(A)), Quiet Mode (<6,68BA), Ready (<3,06BA), Deep Sleep (<3,06BA) |
| Sound Pressure | Printing (56,5dB), Ready (17,2dB), Quiet Mode (53,0dB) |
| TEC Value | 0.687 |
| Operating | Humidity % (20 - 80%), Degrees Celsius (10°C - 32°C), Degrees Fahrenheit (50°F - 90°F) |
| Storage | Degrees Сelsius (0°C - 40°C), Degrees Fahrenheit (32°F - 104°F), Humidity % (10 - 90%) |
| Warmup Time | 20 |
Address Book
| | |
| --- | --- |
| Address Book | Speed Dials, Group Dial, LDAP |
Connectivity
| | |
| --- | --- |
| Local interface | USB 2,0 Host (Rear, Front), Hi-Speed USB 2,0 |
| Wireless network interface | 2,4GHz: IEEE 802,11b/g/n, Wi-Fi Protected Setup™ (WPS), 5GHz: IEEE 802,11a/n |
| Wired Interface | Gigabit Ethernet (10Base-T/100Base-TX/1000Base-T) |
| Display IP Address | Yes |
| Wireless Setup Support | Yes |
| WiFi Direct TM | Yes |
Mobile and web connectivity
| | |
| --- | --- |
| Mobile and Web Connectivity | Brother Mobile Connect (Android, iPad / iPhone), Apple AirPrint, Brother Print Service Plugin, Mopria®, Brother Apps, Web Connect |
Security features
| | |
| --- | --- |
| Wired Network Security | 802,1x (EAP-FAST, EAP-MD5, EAP-TLS, EAP-TTLS, PEAP), SSL/TLS (HTTPS, IPPS, SMTP), SMTP-AUTH, SNMP v3, IPsec, Kerberos, APOP |
| Wireless Network Security (22) | 802,1x (EAP-FAST, EAP-TLS, EAP-TTLS, PEAP), SSL/TLS (HTTPS, IPPS, SMTP), WEP 64/128 bit, WPA-PSK (TKIP/AES), WPA2-PSK (TKIP/AES), SMTP-AUTH, SNMP v3, Kerberos, IPsec, APOP |
| IP Filter | Yes |
| IPv4 | ARP, RARP, BOOTP, DHCP, APIPA (AutoIP), WINS/NetBIOS name resolution, DNSResolver, mDNS, LLMNR responder, LPR/LPD, Custom Raw Port/Port9100, SNMPv1/v2c/v3, HTTP Server, TFTP server, ICMP, LDAP, CIFS Client, FTP Client, POP3 Client, HTTP/HTTPS Server, IPP/IPPS, LDAPS, SMTP Client, SNTPClient, TELNET Server, TFTP client, Web Services (Print), Web Services (Scan) |
| IPv6 | NDP, RA, mDNS, DNS Resolver, LLMNR responder, LPR/LPD, Custom Raw Port / Port9100, SNMPv1/v2c/v3, FTP Server, TFTP server, SNTP Client, Web Services (Print), Web Services(Scan), LDAP, CIFS Client, HTTP/HTTPS Server, ICMPv6, IPP/IPPS, SMTP Client, POP3, TELNET Server, TFTP client |
| Features | Firmware Updates, Port-based Network Access Control (IEEE 802,1x), E-mail Notifications, E-mail Reports, Secure Function Lock 3,0, Setting Lock, Secure Key Management, Secure Print, Automatic Intrusion Detection, Cloud Secure Print, On-Premise Active Directory/LDAP Authentication, Restrict network protocols, Store Print Log, Digitally-signed Firmware, Syslog |
NFC
| | |
| --- | --- |
| NFC | Yes (RFIDeas pcProx Enroll, Elatec, RFIDeas AIR ID Enroll, RDR-6081AKU, RDR-6281AKU, RDR-6381AKU, RDR-6E81AKU, RDR-6H81AKU, RDR-7081AKU, RDR-7581AKU, RDR-7F81AKU, TWN3 MIFARE, TWN3 MIFARE NFC, TWN3 Multi ISO, TWN4 MIFARE NFC) |
Caveats
[3] Scan Speeds based on ISO/IEC 17991
[11] Capacity calculated with 80gsm paper
[22] Optional wireless module required