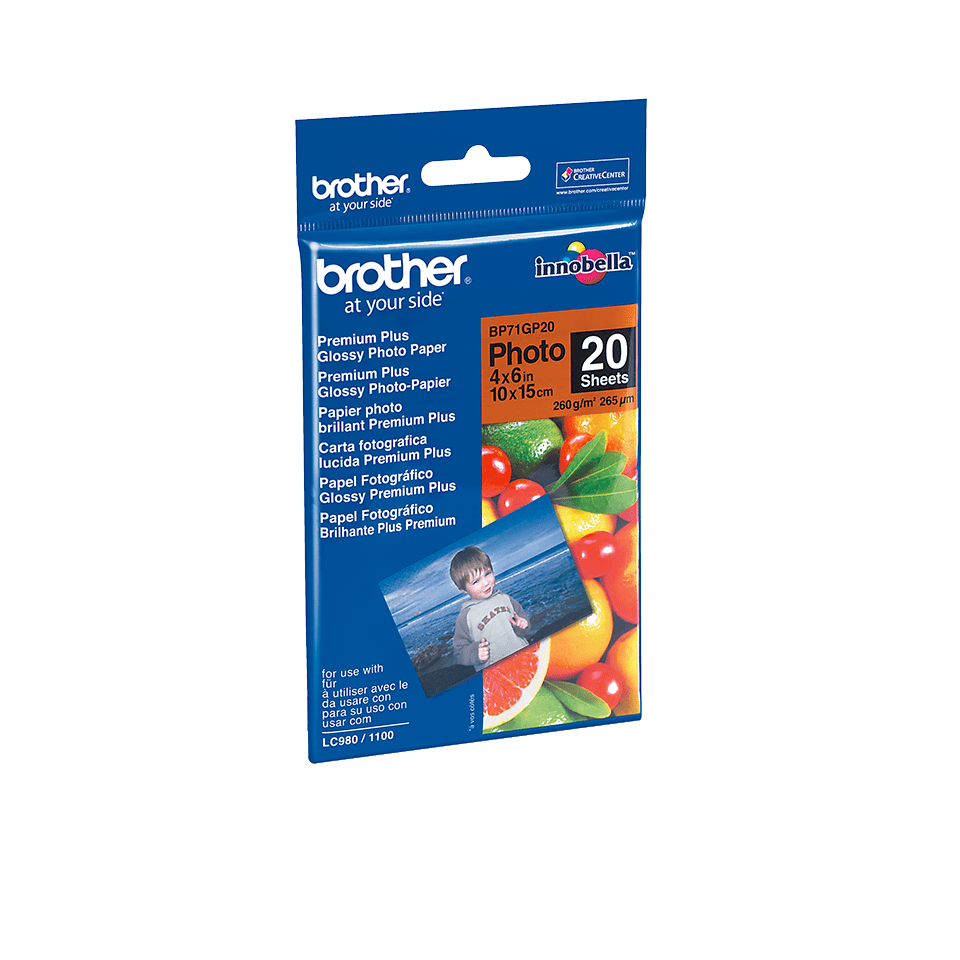 BP71GP20
10cm x 15cm Glossy Paper
Une combinaison de variantes non valide a été sélectionnée.
Product Details
Pack contains 20 sheets
High quality genuine Brother product
Ensures your documents look their very best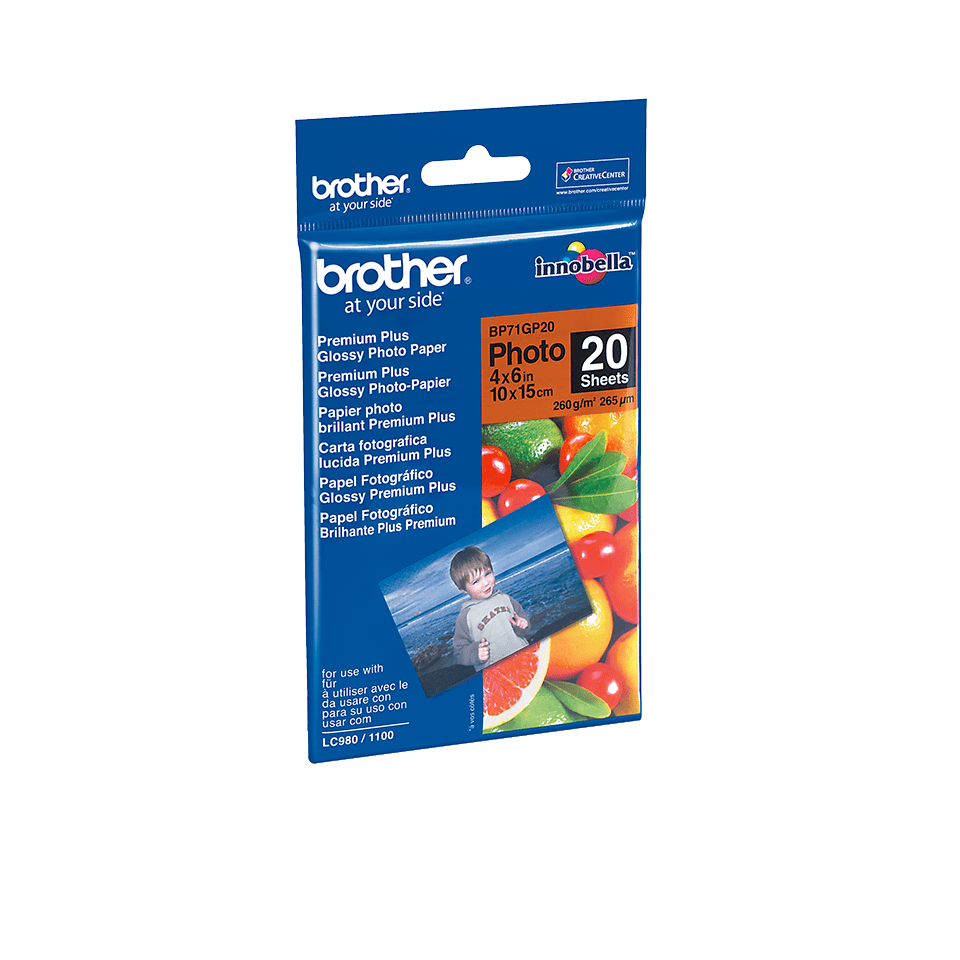 Product Overview
20 sheets, 260g/m2.
Brother paper is designed to work perfectly with our printers, giving you excellent results and value for money.
Related Devices
This product is available from our authorized retailers

This product is available from our authorized retailers

Smart, stylish and compact multifunction colour inkjet printer with a 4.5cm LCD touchscreen and wireless & mobile connectivity.

This product is available from our authorized retailers

Sleek 3-in-1 A4 inkjet with wireless connectivity and automatic document feeding. Comes with 3 years' worth of ink & a three year warranty all in the box.

This product is available from our authorized retailers

Smart, stylish and compact multifunction colour inkjet printer with a 6.8cm LCD touchscreen and wireless & mobile connectivity.

This product is available from our authorized retailers

Revolutionary 3-in-1 inkjet printer, designed for full mobile management. The DCP-J1200WE comes with a free 4 month EcoPro subscription. Save on ink costs, with easy automatic ink delivery and warranty covered.

Revolutionary 3-in-1 inkjet printer with high yield inbox ink cartridges, designed for full mobile management.

Wireless A4 All-in-One Colour Inkjet Printer

This product is available from our authorized retailers

Wireless A4 All-in-One Colour Inkjet Printer

This product is available from our authorized retailers

Compact All-in-One Colour A3 Inkjet Printer

This product is available from our authorized retailers

Compact All-in-One Colour A3 Inkjet Printer

This product is available from our authorized retailers

Wireless A4 All-in-One Colour Inkjet Printer

This product is available from our authorized retailers

Compact colour All-In-One with wireless connectivity

This product is available from our authorized retailers

Stylish 3-in-1 A4 inkjet with wireless connectivity and photo printing capability, in a stylish black finish.

This product is available from our authorized retailers

This product is available from our authorized retailers

Wireless A4 All-in-One Colour Inkjet Printer

This product is available from our authorized retailers

Sleek, compact 3-in-1 A4 inkjet with touchscreen, direct photo printing and wireless connectivity all in a stylish white finish.

This product is available from our authorized retailers

Inkbenefit DCP-J785DW Compact A4 Multifunction with Scan, Copy and Wireless Connectivity

This product is available from our authorized retailers

Wireless Colour Inkjet All-in-One Printer

This product is available from our authorized retailers

Make office life easier with this reliable business colour inkjet printer that delivers fast, affordable and professional quality printing.

This product is available from our authorized retailers

This product is available from our authorized retailers

This product is available from our authorized retailers

This product is available from our authorized retailers

This product is available from our authorized retailers

This product is available from our authorized retailers

This product is available from our authorized retailers

This product is available from our authorized retailers

This product is available from our authorized retailers

Smart, stylish and compact multifunction colour inkjet printer with a 4.5cm LCD touchscreen, 20-sheet automatic document feeder and wireless & mobile connectivity.

This product is available from our authorized retailers

Professional 4-in-1 inkjet printer with wireless connectivity and high yield inbox ink cartridges. Your home office business partner.

This product is available from our authorized retailers

Professional 4-in-1 inkjet printer with wireless connectivity and high yield inbox ink cartridges. Your home office business partner.

This product is available from our authorized retailers

A powerful device offering high quality print, copy, scan and fax functionality as well as a wide range of connectivity options. This printer comes with a free 4 month EcoPro subscription, so you can save on costs, with easy automatic ink delivery and warranty cover.

This product is available from our authorized retailers

Professional 4-in-1 inkjet printer with wireless connectivity and high yield inbox ink cartridges. Your home office business partner.

This product is available from our authorized retailers

Compact All-in-One Colour A3 Inkjet Printer with Fax

This product is available from our authorized retailers

Compact All-in-One Colour A3 Inkjet Printer with Fax

This product is available from our authorized retailers

Compact All-in-One Colour A3 Inkjet Printer with Fax

This product is available from our authorized retailers

Professional 4-in-1 A4 inkjet with wireless connectivity, super high-capacity, long lasting ink cartridges & a three year warranty, all in one box.

This product is available from our authorized retailers

Professional 4-in-1 A4 inkjet with wireless connectivity, super high-capacity, long lasting ink cartridges & a three year warranty, all in one box.

This product is available from our authorized retailers

Professional 4-in-1 inkjet printer with wireless connectivity, high yield inbox ink cartridges and 400 sheet capacity. Your home office business partner.

This product is available from our authorized retailers

Compact All-in-One Colour A3 Inkjet Printer with Fax

This product is available from our authorized retailers

Compact All-in-One Colour A3 Inkjet Printer with Fax and NFC

This product is available from our authorized retailers

Wireless A4 All-in-One Colour Inkjet Printer with Fax

This product is available from our authorized retailers

Compact All-in-One Colour A3 Inkjet Printer with Fax

This product is available from our authorized retailers

Compact colour All-In-One with fax and wireless connectivity

This product is available from our authorized retailers

Sleek 4-in-1 A4 inkjet with wireless connectivity and automatic document feeding, in a stylish black finish.

This product is available from our authorized retailers

Business Smart All-in-One colour A3 Inkjet Printer with Fax

This product is available from our authorized retailers

MFC-J5330DW | Business inkjet | Printers | Brother

This product is available from our authorized retailers

Business Smart All-in-One Colour A3 Inkjet Printer with Fax

This product is available from our authorized retailers

Business Smart All-in-One Colour A3 Inkjet Printer with Fax

This product is available from our authorized retailers

MFC-J5730DW | A3 Business inkjet | Printers | Brother

This product is available from our authorized retailers

Professional All-in-One Colour A3 Inkjet Printer with Fax

This product is available from our authorized retailers

MFC-J5930DW | Business inkjet | Printers | Brother

This product is available from our authorized retailers

Make office life easier with the MFC-J5945DW, the A3 business inkjet 4-in-1 printer you can rely on to deliver reliability and professional print quality every time.

This product is available from our authorized retailers

Print impactful A3 and A4 documents with ease. Ideal for offices needing a multifunction printer that reliably produces premium quality documents.

This product is available from our authorized retailers

This product is available from our authorized retailers

Wireless A4 All-in-One Colour Inkjet Printer with Fax

This product is available from our authorized retailers

Wireless A3 Colour Inkjet All-in-One Printer with Fax

This product is available from our authorized retailers

Professional A3 All-in-One Colour Inkjet Printer with Fax

This product is available from our authorized retailers

MFC-J6530DW | Business inkjet | Printers | Brother

This product is available from our authorized retailers

This product is available from our authorized retailers

Professional A3 All-in-One Colour Inkjet Printer with Fax

This product is available from our authorized retailers

Compact colour All-In-One with fax, and wireless connectivity

This product is available from our authorized retailers

This product is available from our authorized retailers

Professional A3 All-in-One Colour Inkjet Printer with Fax

This product is available from our authorized retailers

MFC-J6930DW | Business inkjet | Printers | Brother

This product is available from our authorized retailers

MFC-J6935DW | Business inkjet | Printers | Brother

This product is available from our authorized retailers

Built for demanding work environments this 4-in-1 colour business inkjet printer comes with automatic 2-sided A3 print, scan and copy, as well as optional high-yield inks providing a competitive cost per page.

This product is available from our authorized retailers

Built for busy offices needing premium quality A3 print, copy, scan and fax – the MFC-J6955DW is an all-in-one printer you can depend on.

This product is available from our authorized retailers

Robust and easy to use. This professional business colour printer, reliably produces premium quality documents at a competitive cost per page.

This product is available from our authorized retailers

Wireless Colour Inkjet All-in-One Printer with Fax

This product is available from our authorized retailers

Wireless A4 All-in-One Colour Inkjet Printer with Fax

This product is available from our authorized retailers

Compact colour All-In-One with fax, and wireless, LAN and NFC connectivity

This product is available from our authorized retailers

Space saving, 4-in-1 A4 inkjet with touchscreen, 2 sided print, automatic document feeder (ADF), near field communication (NFC) and wired/wireless connectivity with a stylish black finish.

This product is available from our authorized retailers