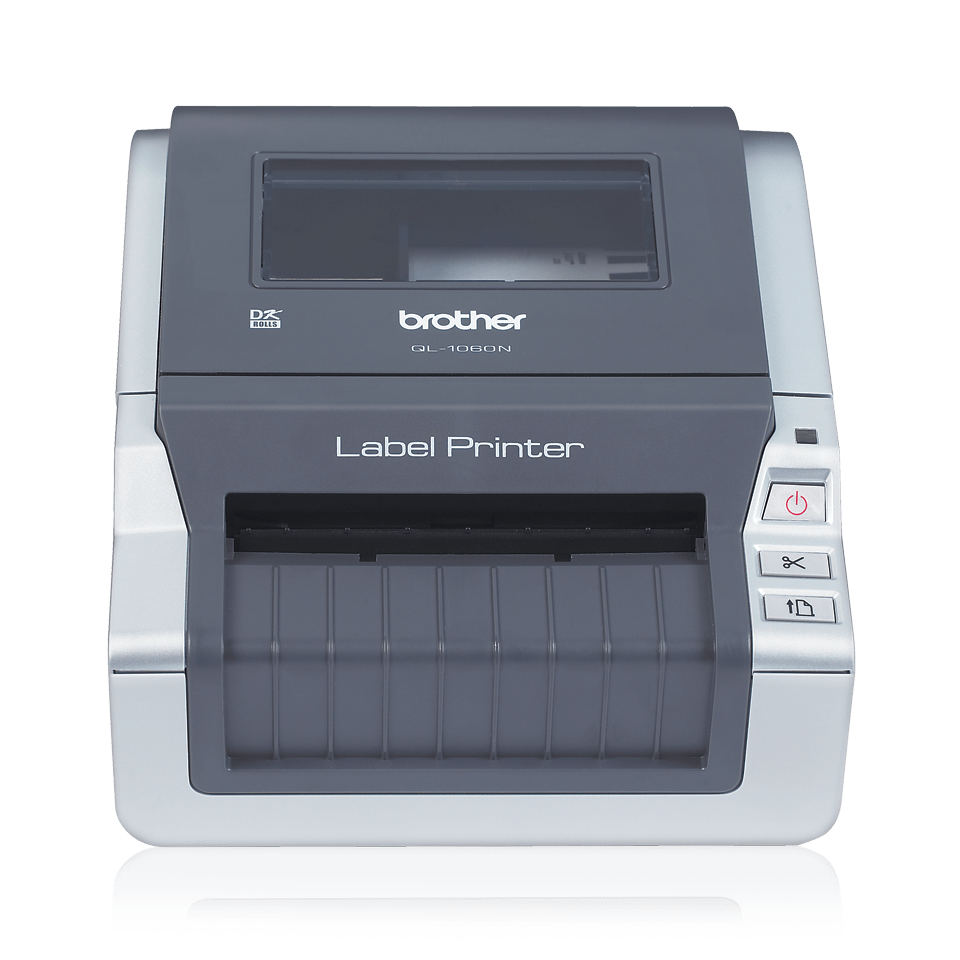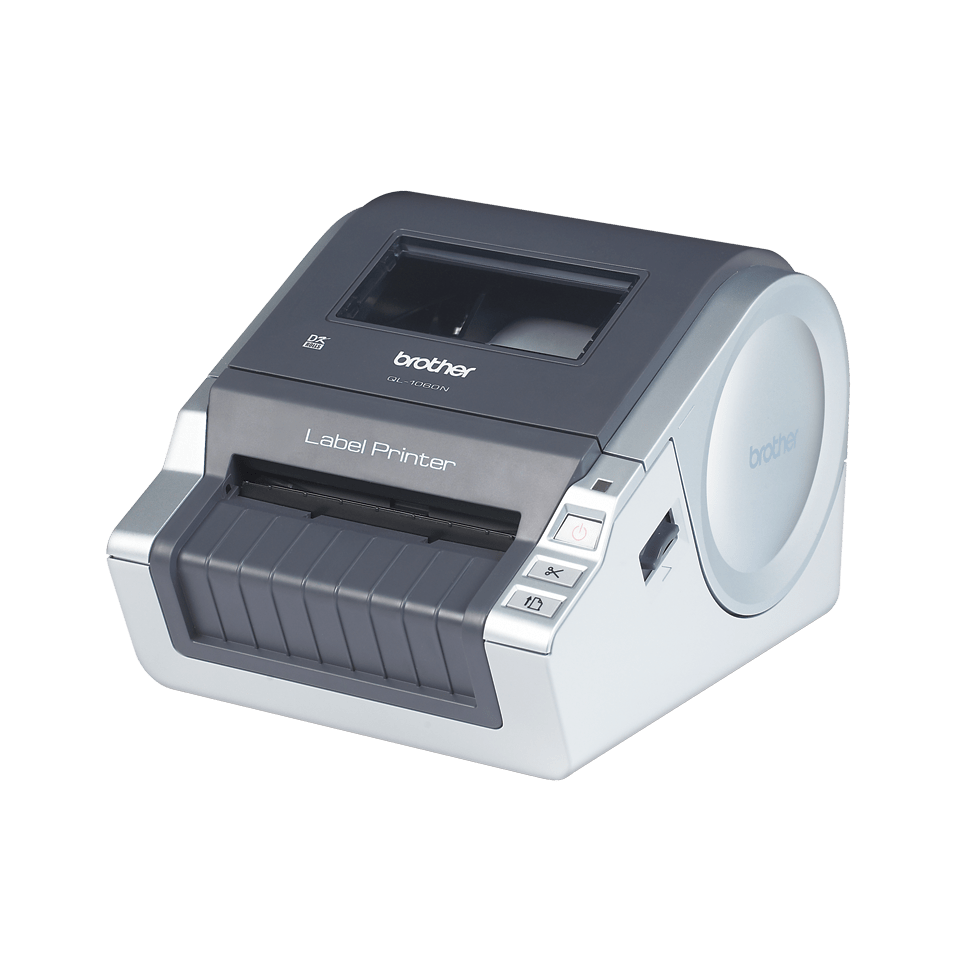 QL-1060N
The wide label printer for the busy office network
Une combinaison de variantes non valide a été sélectionnée.
Product Details
Network ready - share with many users
Creates labels up to 102mm wide
High quality 300dpi print resolution
Built-in automatic cutter
Easy-to-change label rolls. Label design software included
Two Year Back to Base Warranty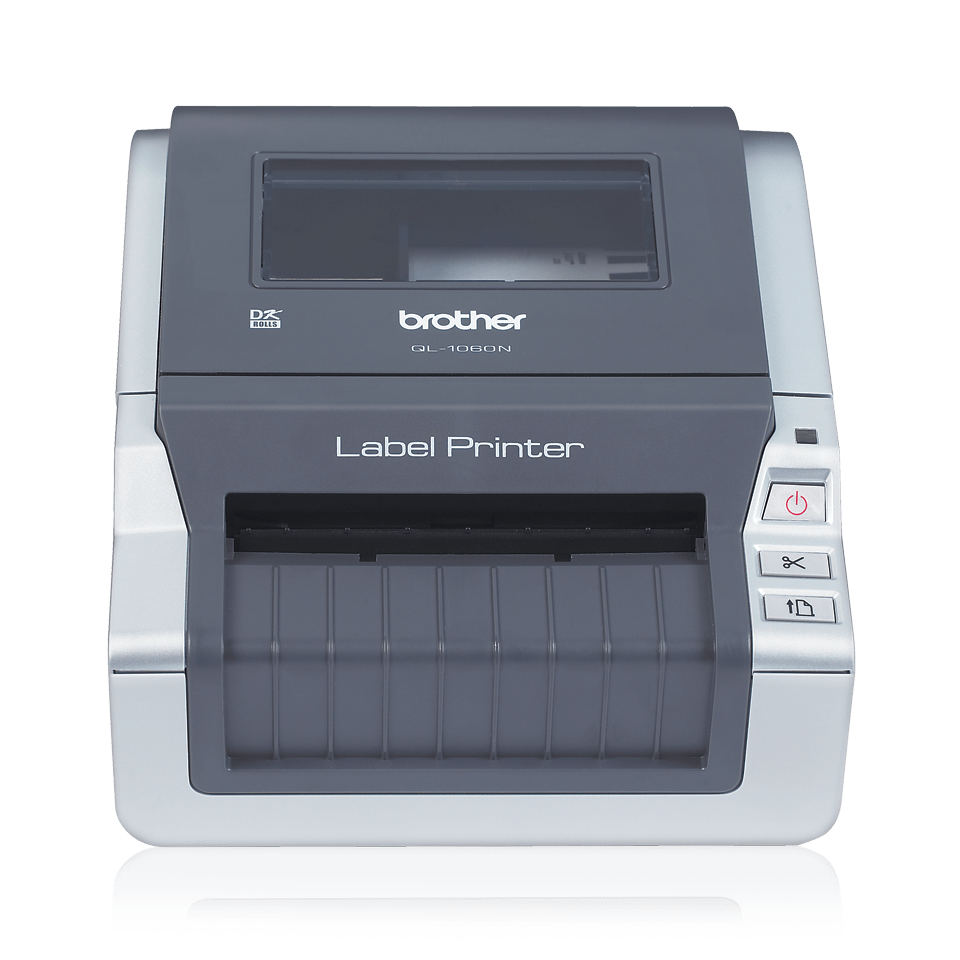 Product Overview
The QL-1060N delivers the best of both worlds – proven, practical label printing with all the increased productivity benefits of wired network connectivity.
Ink & Supplies
The Brother DK-11201 Black on White Label Roll – 29mm x 90mm

The Brother DK-11202 Black on White Label Roll – 62mm x 100mm. 300 labels per roll.

The Brother DK-11203 Black on White Label Roll – 17mm x 87mm - 300 labels per roll

The Brother DK-11204 Black on White Label Roll – 17mm x 54mm - 400 labels per roll

This product is available from our authorized retailers

The Brother DK-11207 Black on White CD/DVD Film Label Roll– 58mm. 100 labels per roll.

The Brother DK-11208 Black on White Label Roll – 38mm x 90mm - 400 labels per roll

The Brother DK-11209 Black on White Label Roll – 29mm x 62mm. 800 labels per roll

The Brother DK-11218 Black on White Label Roll – 24mm round labels - 1000 labels per roll

This product is available from our authorized retailers

The Brother DK-11219 Black on White Label Roll – 12mm round labels - 1200 labels per roll

The Brother DK-11221 Black on White Label Roll – 23mm x 23mm - 1000 labels per roll

The Brother DK-11240 Black on White Label Roll – 102mm x 51mm - 600 labels per roll

The Brother DK-11247 Black on White Label Roll – 103mm x 164mm - 180 labels per roll

"The Brother DK-22113 Black on Clear Continuous Film Label Roll – 62mm: - Tape is 15.24m long"

The Brother DK-22205 Black on White Continuous Paper Label Roll – 62mm,Tape is 30.48m long, 62mm wide

The Brother DK-22210 Labelling Tape – 29mm wide - Tape is 30.48m long

The Brother DK-22211 Black on White Continuous Film Label Roll – 29mm. Tape is 15.24m long

The Brother DK-22212 Black on White Continuous Film Label Roll – 62mm. Tape is 15.24m long.

The Brother DK-22214 Black on White Continuous Paper Label Roll – 12mm - Tape is 30.48m long, 12mm wide

"The Brother DK-22223 Black on White Continuous Paper Label Roll – 50mm - Tape is 30.48m long, 50mm wide"

"The Brother DK-22225 Black on White Continuous Paper Label Roll – 38mm - Tape is 30.48m long, 38mm wide"

"The Brother DK-22243 Black on White Continuous Paper Label Roll – 102mm - Tape is 30.48m long, 102mm wide"

This product is available from our authorized retailers

The Brother DK-22606 Black on Yellow Continuous Film Label Tape – 62mm. Tape is 15.24m long, 62mm wide.

<div>The Brother DK-44205 Black on White Continuous Paper Label Tape with Removable Adhesive – 62mm - Tape is 30.48m long</div>

This product is available from our authorized retailers

The Brother DK-44605 Black on Yellow Continuous Paper Label Tape with Removable Adhesive – 62mm. Tape is 30.48m long

The Brother DK-N55224 Black on White Paper Roll – 54mm - Tape is 30.5m long