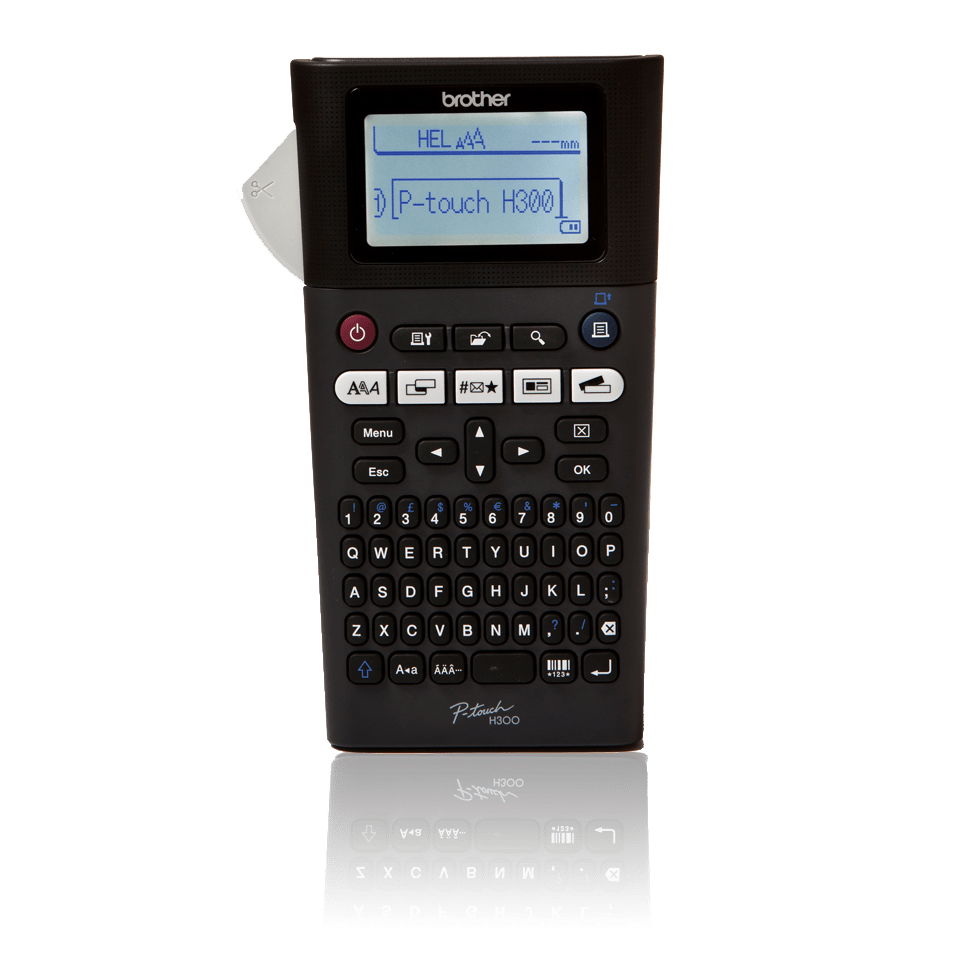 PT-H300
The robust handheld label maker for outdoor or indoor durability
Une combinaison de variantes non valide a été sélectionnée.
Product Details
Large backlit graphic LCD display
Built-in templates for common labelling tasks
Many frames and symbols built-in to customise your label
Optional rechargeable Li-ion battery and AC adapter available
Includes tape cassette. Prints 3.5, 6, 9, 12 and 18mm width labels including heat-shrink tubes
Two Year Back to Base Warranty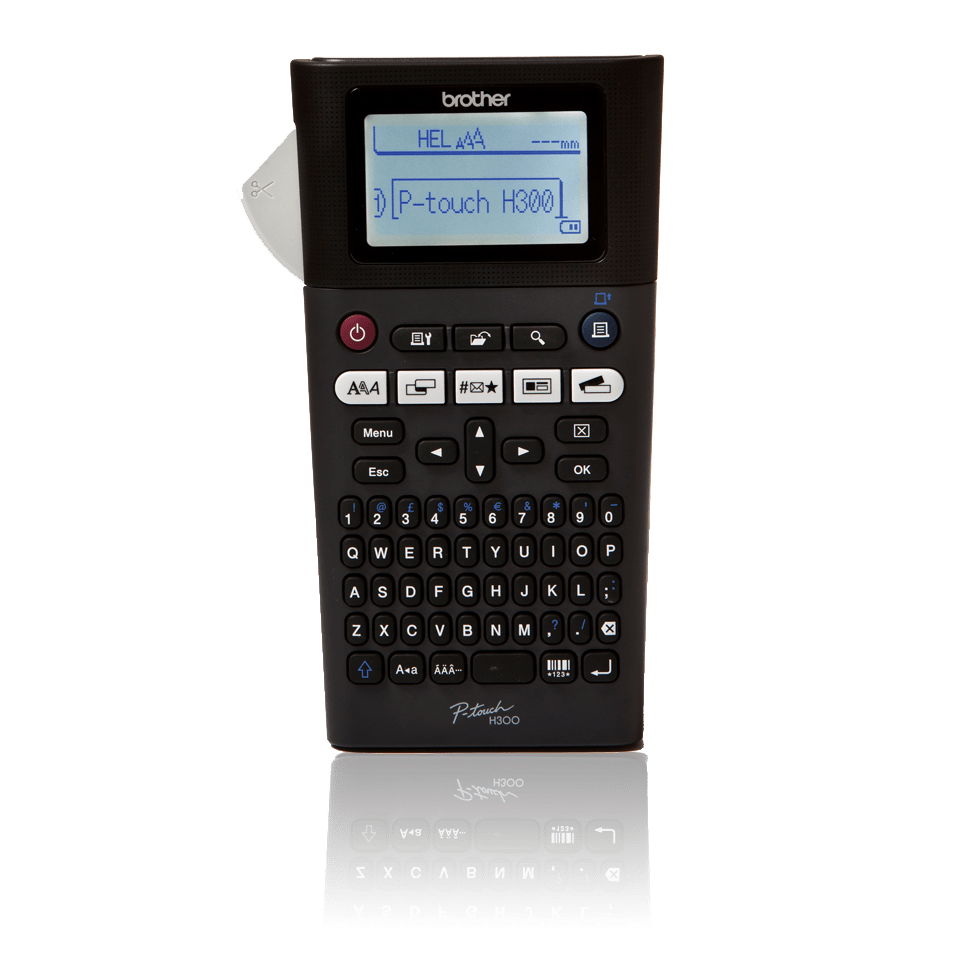 Product Overview
Quickly produce laminated, professional-looking labels in a variety of colours and widths.

Ink & Supplies
Brother HSe-211 Black on White Heat Shrink Tube Tape – 5.8mm

This product is available from our authorized retailers

8.8mm black on white heat-shrink tube HSe tape cassette (1.5 metres)

This product is available from our authorized retailers

11.7mm black on white heat-shrink tube HSe tape cassette (1.5 metres)

This product is available from our authorized retailers

17.7mm black on white heat-shrink tube HSe tape cassette (1.5 metres)

This product is available from our authorized retailers

6mm black on clear standard adhesive laminated TZe tape cassette (8 metres)

This product is available from our authorized retailers

9mm black on clear standard adhesive laminated TZe tape cassette (8 metres)

Brother TZe-131 Black on Clear Labelling Tape – 12mm wide. Tape is 8m long. Compatible with P-touch label printers that show the TZ or TZe logo on the tape cassette cover.

Brother TZe-131S Black on Clear Labelling Tape – 12mm wide

This product is available from our authorized retailers

12mm red on clear standard adhesive laminated TZe tape cassette (8 metres)

12mm blue on clear standard adhesive laminated TZe tape cassette (8 metres)

12mm white on clear standard adhesive laminated TZe tape cassette (8 metres)

18mm black on clear standard adhesive laminated TZe tape cassette (8 metres)

18mm white on clear standard adhesive laminated TZe tape cassette (8 metres)

6mm black on white standard adhesive laminated TZe tape cassette (8 metres)

Brother TZe-221 Black on White Labelling Tape Cassette – 9mm wide. Tape is 8m long.  Compatible with P-touch label printers that show the TZ or TZe logo on the tape cassette cover.

9mm red on white standard adhesive laminated TZe tape cassette (8 metres)

9mm blue on white standard adhesive laminated TZe tape cassette (8 metres)

Brother TZe-231 Black on White Labelling Tape.12mm wide. Tape is 8m long. Compatible with P-touch label printers that show the TZ or TZe logo on the tape cassette cover.

12mm black on white standard adhesive laminated TZe tape cassette (8 metres) (bulk pack of 20 tapes)

This product is available from our authorized retailers

12mm black on white standard adhesive laminated TZe tape cassette (4 metres)

This product is available from our authorized retailers

12mm red on white standard adhesive laminated TZe tape cassette (8 metres)

Brother TZe-233 Blue on White Labelling Tape – 12mm wide

18mm black on white standard adhesive laminated TZe tape cassette (8 metres)

18mm black on white standard adhesive laminated TZe tape cassette (8 metres) (bulk pack of 20 tapes)

This product is available from our authorized retailers

18mm red on white standard adhesive laminated TZe tape cassette (8 metres)

18mm blue on white standard adhesive laminated TZe tape cassette (8 metres)

6mm white on black standard adhesive laminated TZe tape cassette (8 metres)

9mm white on black standard adhesive laminated TZe tape cassette (8 metres)

12mm gold on black standard adhesive laminated TZe tape cassette (8 metres)

Brother TZe-335 White on Black Labelling Tape – 12mm wide. Tape is 8m long. Compatible with P-touch label printers that show the TZ or TZe logo on the tape cassette cover.

18mm gold on black standard adhesive laminated TZe tape cassette (8 metres)

This product is available from our authorized retailers

Brother TZe-345 White On Black Labelling Tape – 18mm wide

9mm black on red standard adhesive laminated TZe tape cassette (8 metres)

12mm black on red standard adhesive laminated TZe tape cassette (8 metres)

12mm black on red standard adhesive laminated TZe tape cassette (4 metres)

This product is available from our authorized retailers

12mm white on red standard adhesive laminated TZe tape cassette (8 metres)

18mm black on red standard adhesive laminated TZe tape cassette (8 metres)

9mm black on blue standard adhesive laminated TZe tape cassette (8 metres)

12mm black on blue standard adhesive laminated TZe tape cassette (8 metres)

12mm white on blue standard adhesive laminated TZe tape cassette (8 metres)

18mm black on blue standard adhesive laminated TZe tape cassette (8 metres)

6mm black on yellow standard adhesive laminated TZe tape cassette (8 metres)

9mm black on yellow standard adhesive laminated TZe tape cassette (8 metres)

Brother TZe-631 Black on Yellow Labelling Tape – 12mm wide. Tape is 8m long. Compatible with P-touch label printers that show the TZ or TZe logo on the tape cassette cover.

18mm black on yellow standard adhesive laminated TZe tape cassette (8 metres)

9mm black on green standard adhesive laminated TZe tape cassette (8 metres)

12mm black on green standard adhesive laminated TZe tape cassette (8 metres)

18mm black on green standard adhesive laminated TZe tape cassette (8 metres)

Brother TZe-B31 Fluorescent Orange Labelling Tape – 12mm wide

12mm black on fluorescent yellow standard adhesive laminated TZe tape cassette (5 metres)

This product is available from our authorized retailers

12mm printhead cleaning TZe tape cassette

This product is available from our authorized retailers

Brother TZe-CL4 Printhead Cleaning Tape Cassette – 18mm wide

Brother TZe-FA3 Blue on White Iron-On Fabric Tape – 12mm wide

18mm blue on white iron-on fabric TZe tape cassette (3 metres)

This product is available from our authorized retailers

18mm blue on white iron-on fabric TZe tape cassette (3 metres) (bulk pack of 100 tapes)

This product is available from our authorized retailers

12mm black on clear standard adhesive matt laminated TZe tape cassette (8 metres)

9mm black on metallic silver standard adhesive matt laminated TZe tape cassette (8 metres)

Brother TZe-M931 Black on Matt Silver Labelling Tape – 12mm wide

Brother TZe-MPRG31 Black on Red Gingham Labelling Tape – 12mm wide. Tape is 4m long. Compatible with P-touch label printers that show the TZ or TZe logo on the tape cassette cover.

Brother TZe-MQL35 White on Grey Labelling Tape – 12mm wide. Tape is 5m long. Compatible with P-touch label printers that show the TZ or TZe logo on the tape cassette cover.

Brother TZe- MQP35 White on Berry Pink Labelling Tape – 12mm wide

3.5mm black on white standard adhesive non-laminated TZe tape cassette (8 metres)

9mm black on white standard adhesive non-laminated TZe tape cassette (8 metres)

Brother TZe-N231 Black on White Labelling Tape – 12mm wide

18mm black on white standard adhesive non-laminated TZe tape cassette (8 metres)

Brother TZe-R231 Black on White Ribbon Tape – 12mm wide

Brother TZe-R334 Gold on Black Ribbon Tape – 12mm wide

This product is available from our authorized retailers

Brother TZe-R931 Black on Silver Ribbon Tape – 12mm wide

Brother TZe-RL34 Gold on Light Blue Ribbon Tape – 12mm wide

This product is available from our authorized retailers

Brother TZe-RM34 Gold on Mint Green Tape – 12mm wide

This product is available from our authorized retailers

Brother TZe-RN34 Labelling Tape – 12mm wide. Tape is 4m long. Compatible with P-touch label printers that show the TZ or TZe logo on the tape cassette cover.

Brother TZe-SE4 Black on White Labelling Tape. 18mm wide. Tape is 8m long. Tamper evident – cannot be re-applied once removed. Compatible with P-touch printers that show the TZ or TZe logo on the tape cassette cover.

This product is available from our authorized retailers
This product is available from our authorized retailers

The Brother BA-E001 Printer Battery: For use with P-touch label printers

This product is available from our authorized retailers